The season finale of Love & Hip Hop Atlanta aired last night and I must say that it was a fairly nice ending in comparison to previous episodes.   
There were so many scenes that made me smile and I really enjoyed seeing the story lines come to a close the way that they did.
In my opinion, the highlight of the episode would be Mimi deciding to leave Stevie J and move on with her life. After a final therapy session with Stevie and Joseline, she "saw the light" and decided to let them have at it. Stevie somewhat admitted that he was never going to change and as the therapist said, "Joseline takes him as he is."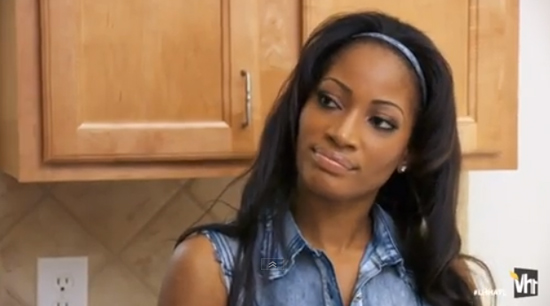 Another moment that made me smile was seeing Erica move into her new home and let Scrappy really have the space and freedom he wanted. It's obvious that they love each other and in a perfect world would want the relationship to work, but sometimes it just doesn't happen like that. Scrappy had to break the news that he had considered going back to Erica to Buckeey, who as you can rightfully assume was not a happy camper.
I'm not clear on how Buckeey could feel hurt by Scrappy telling her that because she knew how he feels/felt about Erica from the jump. If her intentions were to really be his friend and be there for him, she wouldn't have given him all that lip and just played her position!
Moving on, this moment made me smile…but in a reaction to something funny kind of way. Karlie's admiration and lovey-doveyness for Benzino quickly turned to "f*ck Benzino" after he flashed that ring and didn't give it to her.
But seriously, who does that?? Who shows a woman a ring while breaking up with her…after acting like he was about to propose? That was the most douchebaggery behavior (yes I made that up) I've seen on TV…but what can we expect from a man who is BFFs with Stevie J? *shrug*
If you haven't seen the episode, click here to watch.
I'm looking forward to the reunion episode to see if all this gossip and drama that has unfolded in the last few weeks will have any truth to it!
What did you think about last night's episode?